Enhancing Rotator Cuff Healing with Platelet Rich Plasma (PRP)
What is Platelet Rich Plasma (PRP) or PRP Therapy?
Platelet Rich Plasma (PRP) also known as PRP Therapy is an exciting new technology emerging in orthopedics and sports medicine. PRP is a sample of autologous blood with concentrations of platelets above baseline values. Platelets play an instrumental role in the normal healing response via local secretion of growth factors and recruitment of reparative cells.
How is PRP Obtained?
PRP is obtained from approximately 15-30cc of the patient's blood and using a centrifuge to separate RBC's, leukocytes, and platelets. With further concentration, plasma is divided into platelet-poor and platelet-rich portions. After isolation, PRP is administered with an activating agent such as calcium chloride and/or thrombin immediately before the PRP injection, initiating platelet activation, clot formation, and growth factor release at the injection site. Platelets contain seven key growth factors: TGF-B, VEGF, IGF I & II, ECGF, PDFG-A&B, FGF, and EGF. Several studies have demonstrated increased collagen gene expression and increased production of vascular endothelial growth factor.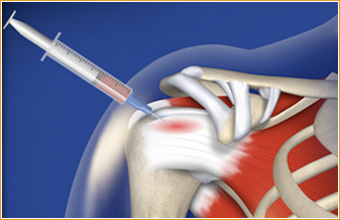 PRP Injection
A PRP Injection for the treatment of muscle, ligament, and tendon injuries is currently gaining widespread use. Promising data shows quicker recovery times and stronger healing at the repair site in areas; such as lateral epicondylitis, patellar tendinopathy, ligament tears, and Achilles tendinopathy to name a few. As well, there are encouraging studies and ongoing investigations into using PRP for stronger and quicker healing of the rotator cuff after arthroscopic repair.
Shoulder Injection with PRP Enhances Rotator Cuff Healing
This exciting technology is showing promising results with rotator cuff healing and return to activities more quickly by creating a more favorable biological environment for tendon-to-bone healing. Used in conjunction with minimally invasive arthroscopic techniques, we may see even better results for the more challenging large and massive rotator cuff tears as well as revision repairs.
Schedule your PRP Injection with our shoulder expert, Dr. Bartholomew.
Call Bone and Joint Specialists at (248) 673-0500.
Make An Appointment
To schedule an appointment, please call (248) 673-0500 ext 14 OR Make an Appointment Request online.
We are currently accepting new patients and referrals.