Custom Fit Total and Reverse Shoulder Replacement Surgery
Dr. Bartholomew is excited to announce the introduction of the personalized 'Signature' Custom Fit shoulder replacement. He is among the first in the United States to offer this exciting new technology and the only physician in Michigan performing this procedure.
This new technology is designed to fit your specific anatomy. Because each person has different anatomy, the "signature shoulder" is a Custom Fit shoulder Replacement that custom makes the instrumentation for you and only you. This is done for every individual using CT with 30 reconstructive images to directly match your anatomy (fig 1). These images are sent to the company which in turn makes a custom anatomic guide for Dr. Bartholomew to use during the surgery. The shoulder replacement you receive is therefore specific for you. This, in conjunction with minimally invasive surgery, offers several advantages:
Quicker recovery time

Less invasive

Preserve more bone and ligaments
'Signature' Shoulder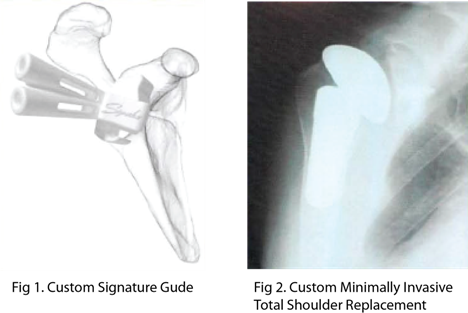 Fig. 1 Shows the computer generated model of the preoperative plan for a custom shoulder replacement. The signature guide provides anatomic placement of the shoulder prosthesis. After the computer-generated images are formed and customized to your anatomy, they are for approval by Dr. Bartholomew. After approval, the shoulder is sent to the company, and a 3D printer is used to make the custom shoulder blocks.
Schedule a Custom Fit Total and Reverse Shoulder Replacement Surgery consultation with our shoulder expert, Dr. Bartholomew.  Call Bone and Joint Specialists at (248) 673-0500.
Make An Appointment
To schedule an appointment, please call (248) 673-0500 ext 14 OR Make an Appointment Request online.
We are currently accepting new patients and referrals.