"Signature" Custom Fit Total Knee Arthroplasty
If you suffer from knee pain due to arthritis or other degenerative disease and are considering knee replacement surgery, you might be a candidate for the Minimally Invasive "Signature" Custom Fit Knee Replacement, a new procedure offered by Bone and Joint Specialists orthopedic doctors, Dr. Bartholomew and Dr. Kohen.
This new technology is designed to fit your specific anatomy. Because each person has different anatomy, the "signature knee" is a Custom Fit Knee Replacement that custom makes the instrumentation for you and only you. This is done for every individual using MRI with 3D reconstructive images to directly match your anatomy (fig 1). These images are sent to the company which in turn makes a custom anatomic guide for Bone and Joint Specialists doctors during the surgery. The knee replacement you receive is therefore specific for you. This, in conjunction with minimally invasive surgery, offers several advantages:
Custom Fit Total Knee Arthroplasty Advantages:
Quicker recovery time

Preserve more bone and ligaments
Dr. Bartholomew and Dr. Kohen were among the first orthopedic surgeons in Michigan to perform this exciting new type of knee arthroplasty procedure.
Fig.1 Shows the computer generated model of the preoperative plan for a custom total knee replacement. The shaded color areas are the proposed bone resection to prepare for the knee implant. After the computer-generated images are formed and customized to your anatomy, they are sent to your surgeon for approval. Once approved, the knee is sent to the company (materialise in Belgium), to make the custom knee blocks.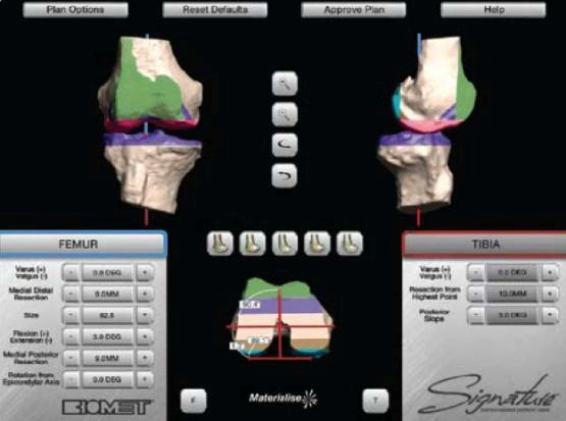 The custom blocks look like the figures below. The blocks are used in your surgery allowing your surgeon to cut (shave) the bone precisely to match your anatomy. This is also a minimally invasive procedure which preserves bone and is less painful than traditional total knee replacement.
This procedure isn't suitable for everyone who needs knee replacement surgery. The best way to find out if you qualify for this procedure is to schedule a consultation with Dr. Bartholomew or Dr. Kohen.

Combined with a rapid recovery, the signature custom total knee has revolutionized knee replacement surgery.
Call Bone and Joint Specialists at (248) 673-0500 serving the residents of Oakland and Oakland County, Southeast Michigan, Metro Detroit, Madison Heights, Warren, Wayne, Waterford, and Macomb, Michigan.
Make An Appointment
To schedule an appointment, please call (248) 673-0500 ext 14 OR Make an Appointment Request online.
We are currently accepting new patients and referrals.