Arthroscopic Latarjet Procedure
Treating Anterior Shoulder Dislocation
Dr. Bartholomew offers Latarjet Procedure, the latest arthroscopic surgical procedure to treat anterior shoulder dislocation or chronic shoulder instability, typically caused by bone loss or a fracture of the glenoid.  Developed by Dr. Laurent Lafosse, one of the world's leading arthroscopic shoulder surgeons, this technique can now be done via an all-arthroscopic approach. Utilizing this arthroscopic procedure means less pain and quicker recovery time. Dr. Bartholomew has traveled to Annecy, France to spend exclusive time with Dr. Lafosse to learn this technique.
Osteotomy of the Coracoid Process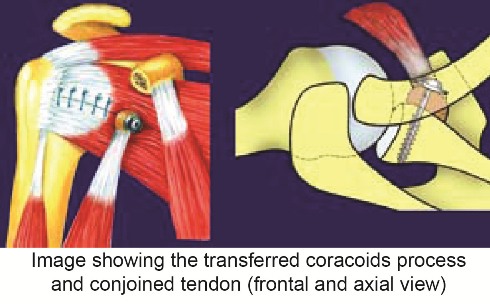 LatarjetProcedure
Latarjet surgery involves osteotomizing the coracoid process and transferring it to the anterior/inferior aspect of the glenoid through a split in the subscapularis muscle. The extra osseous (boney) surface area, in conjunction with the 'sling' effect of the conjoined tendon, provide excellent stability of the glenohumeral joint.
Patients who are good candidates for this procedure are those with a significant glenoid bone loss (>25%), failed soft tissue instability repair, generalized ligamentous laxity, certain types of capsular avulsions (i.e., Hagl lesions).
Dr. Bartholomew, orthopedic shoulder surgeon in Michigan, specializes in Arthroscopic Latarjet Procedure for Shoulder Instability. Call our office to schedule a consultation to diagnose your shoulder instability at (248) 673-0500.
Make An Appointment
To schedule an appointment, please call (248) 673-0500 ext 14 OR Make an Appointment Request online.
We are currently accepting new patients and referrals.