Shoulder Pain
If you have shoulder pain, it can be difficult to do simple everyday activities: raise your arm, pick up a child, throw a ball, and many others. 
Why Does My Shoulder Hurt?
Your shoulder is a flexible joint. When it is injured, the pain can reduce your shoulder's flexibility and motion significantly. Numerous conditions can cause shoulder problems. Some of these common causes of shoulder pain include tendonitis, bursitis, impingement, osteoarthritis, and cartilage and muscle tears from overuse.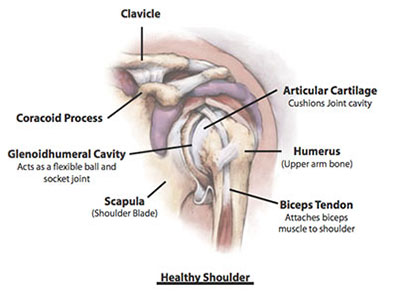 Most shoulder problems fall into four categories:
Shoulder Fracture (broken shoulder bone)
Shoulder Pain Treatment
Bone and Joint Specialists offer a full range of treatments for patients of all ages with all types of shoulder pain and shoulder problems. Shoulder pain treatment options are available for patients with even the most complex diagnosis. From minimally invasive arthroscopic techniques, total joint replacement, or complicated fractures, our shoulder surgeons have the specialized training and experience to treat your shoulder pain.
There are many causes of shoulder joint pain. Early Evaluation and treatment can provide pain relief even without surgery.
Clavicle Fracture (Collarbone)

Proximal Humerus Fracture (Broken Shoulder)
Orthopedic Shoulder Specialists
Our shoulder specialists are at the forefront of the latest orthopedic techniques and continue to pioneer new and innovative orthopedic procedures. Offering a full range of cutting-edge shoulder treatments,  allows us the most comprehensive approach to shoulder conditions.
Our Shoulder Expert
Dr. Richard Bartholomew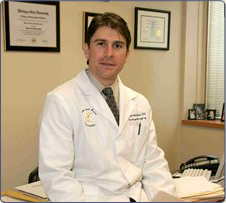 Bone and Joint Specialists Orthopaedic Shoulder Surgeon Dr. Richard Bartholomew is a shoulder expert for the treatment of shoulder pain, shoulder injuries, and shoulder disorders including arthritis and trauma. 
Dr. Bartholomew will evaluate and diagnose your shoulder condition and provide a customized treatment plan that is exclusive to you. He will explore conservative nonsurgical methods first, such as physical therapy, including individualized shoulder exercises to relieve your shoulder pain. However, if surgery is necessary to allow you to continue an active lifestyle, Dr. Bartholomew will employ specialized techniques that are minimally invasive and can lead to quicker recovery times.
Shoulder Procedures
Click topics below to expand for more information.
Orthopedic surgeons can diagnose and treat many different conditions with arthroscopic surgery, while patients can benefit from less tissue damage, shorter recovery times, less scarring and less post-operative pain. This technique also avoids cutting any muscles or tendons to access the affected area.
If non-operative measures fail to provide sufficient relief, total shoulder replacement is an orthopedic procedure with very high patient satisfaction scores. Dr. Bartholomew has over 14 years experience with Total Shoulder Replacements and carefully assess each patient individually to find the best treatment option.  Dr. Richard Bartholomew is among the first in the U.S. and the first in Michigan to offer the new "Custom Shoulder Replacement."
If you have a damaged rotator cuff that would not be able to support a traditional shoulder replacement,  reverse shoulder replacement or reverse shoulder arthroplasty may be a treatment option.
Like traditional shoulder replacement, the "worn out" parts of your shoulder that rub together is replaced with metal and plastic parts that can move smoothly.
The difference with reverse shoulder replacement is the reversal of your arm bone and shoulder blade that serve as the ball and socket.  The "ball" is attached to your shoulder blade, and the "socket" is attached to your upper arm. This procedure allows for your deltoid muscle to compensate for your damaged rotator cuff, resulting in increased stability, strength, and range-of-motion to your shoulder joint.
Make An Appointment
To schedule an appointment, please call (248) 673-0500 ext 14 OR Make an Appointment Request online.
We are currently accepting new patients and referrals.