Causes of Shoulder Pain
Every year, more than 4 million Americans seek medical attention for common shoulder conditions.
Most shoulder pain involves the muscles, ligaments, and tendons, rather than bones which make it difficult to decide if the shoulder pain is from muscle soreness or injury. Fortunately, the shoulder is one of the least likely joints to develop arthritic conditions however, certain arthritic conditions can occur and also cause shoulder pain.
There are many different types of shoulder injuries and tears; however, there are a few that are more common than others. Common types of injuries are rotator cuff tears, biceps tendon rupture, Bankart Lesion, and Superior Labrum from Anterior to Posterior (SLAP) lesions.
Many of these injuries can occur from long-term overuse, such as repetitive lifting, pushing, pulling and throwing. For this reason, athletes and skilled workers are particularly prone to shoulder injuries.
Two common causes of shoulder pain involve arthritis of the shoulder or shoulder injuries:
Common Types of Arthritis of the Shoulder:
Common Types of Shoulder Injuries:
Diagnosing Shoulder Pain
Your orthopedic surgeon will evaluate your health history, perform a physical examination, and take x-rays to diagnose your shoulder pain.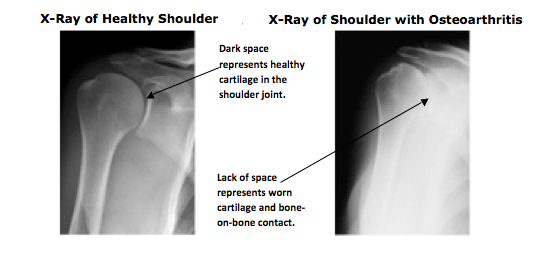 Medical history
Symptoms
Health
Activity
Examine affected joint
Range of motion tests
Joint-line tenderness
Joint deformities
X-rays
An x-ray will help your surgeon diagnose your shoulder pain. On an x-ray, a healthy shoulder joint appears as if there is a space between the bones in the joint. Although you cannot see the cartilage on an x-ray, in the healthy shoulder, the cartilage is working to cushion and smooth the movement of the humerus (upper arm bone) against the scapula (shoulder blade). On the x-ray of a shoulder with osteoarthritis, there is bone on bone contact because the cartilage between the humerus and scapula has been worn away.
When non-surgical treatments such as diet, exercise, medications, supplements, and physical therapy fail, your orthopedic surgeon may recommend total shoulder replacement.
You should discuss your condition and treatment options with your surgeon.
All patient education materials are provided by OrthoPatientEd.com and have been reviewed by our Advisory Board of leading Orthopedic Surgeons to ensure accuracy. All materials are provided for informational purposes only and are not intended to be a substitute for medical advice from your orthopedic surgeon. Any medical decisions should be made after consulting a qualified physician.

This site includes links to other websites. OrthoPatientEd.com takes no responsibility for the content or information contained in the linked sites.
Make An Appointment
To schedule an appointment, please call (248) 673-0500 ext 14 OR Make an Appointment Request online.
We are currently accepting new patients and referrals.