Arthroscopic Shoulder SLAP Repair
Shoulder SLAP repair involves repairing a labrum tear.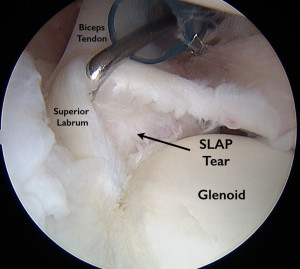 What is a Labrum?
The labrum is a piece of fibrocartilage (rubbery tissue) attached to the rim of the shoulder socket that helps keep the ball of the joint in place. When this cartilage is torn, it is called a torn labrum. Labrum tears may result from injury, or sometimes as part of the aging process.
Torn Labrum Symptoms

Several symptoms are common with a torn labrum shoulder injury. A dull throbbing ache in the joint. This can be brought on by very strenuous exertion or simple household chores. Sufferers notice that they turn to ice packs more frequently for relief. Difficulty sleeping due to shoulder discomfort. The SLAP lesion decreases the stability of the joint which when combined with lying in bed causes the shoulder to drop. This, in turn, pulls on the muscles and ligaments causing discomfort. For an athlete involved in a throwing sport such as baseball, pain and a catching feeling are prevalent. Throwing athletes may also complain of a loss of strength or significant decrease velocity in throwing. Any applied force overhead or pushing directly into the shoulder can result in impingement and catching sensations.
Arthroscopic SLAP Lesion Repair
While the surgery can be performed as a traditional open procedure, the recommended course of action is arthroscopic surgery. This procedure is vastly less intrusive to the body and reduces chances of infection. A SLAP lesion repair is performed arthroscopically using sutures to reattach the labrum tear back to the bone. A SLAP repair restores the normal anatomy of the shoulder by reattaching the labrum in its normal position. Once healed, the SLAP repair allows normal function of the previously damaged labrum and biceps attachment
Rehabilitation For Shoulder Labrum Repair
Rehabilitation varies depending on factors such as the strength of the SLAP repair, and the preference of the surgeon. Most often, restricted motion is maintained for about six weeks following a SLAP repair. During this first phase of rehabilitation, some passive motion is allowed to prevent shoulder stiffness. In the first phase, the torn labrum is healing into its proper position.
Once healed, patients enter the second phase of rehabilitation and can begin more motion at about six weeks. Physical therapy continues to help maintain motion and regain the strength of the shoulder. The final phase of rehabilitation involves more active strengthening of the muscles that surround the shoulder joint, and full recovery is expected between 3 to 4 months.
Dr. Bartholomew Performing an Arthroscopic Slap Repair:
This procedure isn't suitable for everyone who needs a SLAP repair surgery.  The best way to find out if you qualify for this procedure is to schedule a consultation with Dr. Bartholomew.
Call Bone and Joint Specialists at (248) 673-0500 serving the residents of Oakland and Oakland County, Southeast Michigan, Metro Detroit, Madison Heights, Warren, Wayne, Waterford, and Macomb, Michigan.
Make An Appointment
To schedule an appointment, please call (248) 673-0500 ext 14 OR Make an Appointment Request online.
We are currently accepting new patients and referrals.