Minimally Invasive Shoulder Replacement Surgery
TESS Total Shoulder Arthroplasty
The TESS total shoulder arthroplasty procedure removes minimal amounts of bone and places a smooth high carbide cobalt chrome metal humeral head with a small hydroxyapatite coated lattice replacing the diseased humeral head. This procedure removes minimal amounts of bone compared to the traditional long metal stem of the humeral component (fig 1b) allowing for a smooth articulation with the glenoid. This is done with minimally invasive shoulder replacement surgery.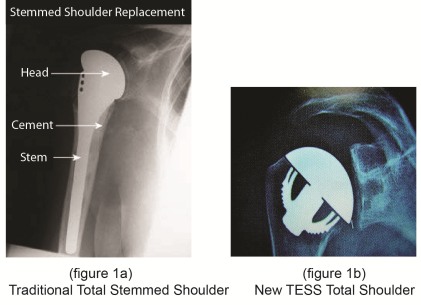 Total Shoulder Replacement
Traditional total shoulder replacement is performed on an intact rotator cuff. This involves removing the entire humeral head and placing a long metal stem into the humeral shaft (fig 1a). For patients who have arthritis with an intact rotator cuff or a small reparable rotator cuff tear, the standard shoulder replacement surgery works well. However, in the suitably selected patient, the new TESS shoulder is a lot less invasive with excellent outcomes.
After TESS Total Shoulder Arthroplasty Surgery
Following TESS shoulder surgery, patients immediately start physical therapy by doing simple stretches to get used to their new shoulder. Physical Therapy allows the tissue in the shoulder to heal and the pain to decrease. Patients begin restoring passive motion during the first four to six weeks after surgery. After that, they start strengthening the muscles.
We are seeing great results with an increased range of motion, pain relief and quicker recovery times with this procedure.
Schedule a TESS total shoulder arthroplasty consultation with our shoulder expert, Dr. Bartholomew.
Call Bone and Joint Specialists at (248) 673-0500.
Make An Appointment
To schedule an appointment, please call (248) 673-0500 ext 14 OR Make an Appointment Request online.
We are currently accepting new patients and referrals.